Honoring Sister Rita O'Leary, IHM
OUR GIFT, OUR PARTNER IN MISSION, SISTER RITA O'LEARY, IHM PASSES ON TO HER REWARD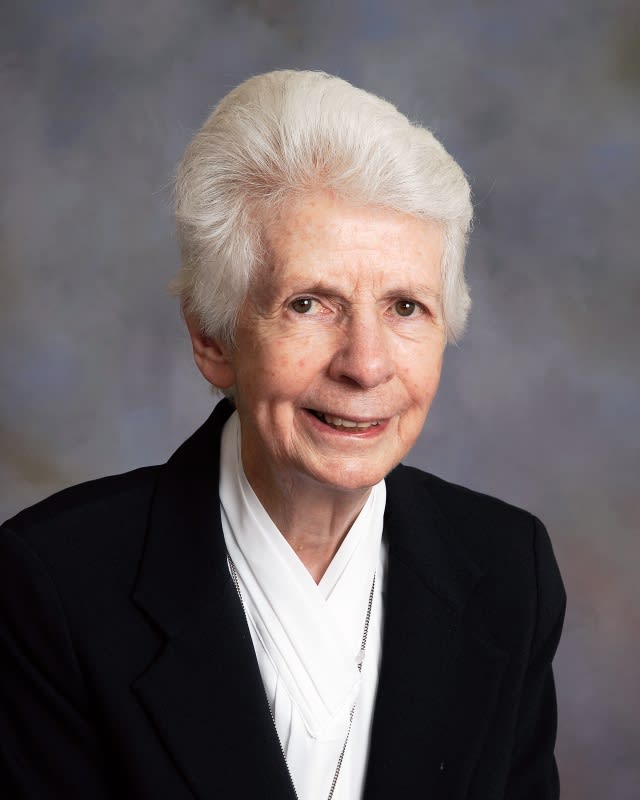 Earlier this morning, February 25, 2021, we learned of the passing of our friend, our inspiration, our gift and fellow Partner in Mission, Sister Rita O'Leary, IHM. She died peacefully at Camilla Hall at Immaculata, Pennsylvania where she had resided with her fellow Sisters, Servants of the Immaculate Heart of Mary. Sister Rita was a treasured member of our Partners in Mission team since the beginning in 2008 until becoming ill and no longer able to actively serve in recent years. More than a Partner, she was a dear friend to many of us, especially to Larry Furey, founding partner, who stayed in very close contact throughout her illness.
Sister Rita made an immense impact in Catholic education throughout her life in various roles as a teacher and talented administrator as Director of Advancement for her alma mater, Bishop McDevitt High School in Harrisburg, Pennsylvania and previously at Our Lady of Lourdes High School in Shamokin, Pennsylvania. She most recently served as an exceptional Director of Planned Giving at Immaculata University where she worked on the Advancement team with our Partner, Kevin Quinn, the former Vice President for Advancement.
As a Partner in Mission, we recall her spirit of generosity and kindness in all she did with us. A woman of enormous faith and always ready to help, Sr. Rita readily took charge of making sure all was ready for daily Mass at each of our Boston and Naples Conferences as well as providing excellent conference presentations on topics such as planned giving and stewardship. Sr. Rita was a valued confidante and counsel for conference participants and in a variety of consulting assignments over the years. A skilled interviewer during Capital Campaign Feasibility Studies, some key prospects later noted that they felt like they had been to confession in revealing how they felt about a school and in inspiring the gift they would make.
Perhaps most valued was the friendship and counsel she quietly provided to members of our team in many known and unknown ways. Each of us have been blessed to have known and even worked with very special people in our lives. Sr. Rita O'Leary will always be remembered as a blessing, a true gift from God and treasured member of our Partners in Mission team.
Today we rejoice in her life, knowing that there is another "Saint" Rita watching over us and interceding for us on behalf of the mission and important work of Catholic education.
May she rest in peace with Our Father in Heaven. We love you, Sister Rita.
In lieu of flowers, memorial donations may be sent to Camilla Hall Nursing Home in care of IHM Mission Advancement Office, 230 IHM Drive, Malvern, PA. 19355.
Live streaming of Sister Rita O'Leary, IHM's Funeral Mass will begin at 10:30 am on Tuesday, March 2, 2021.